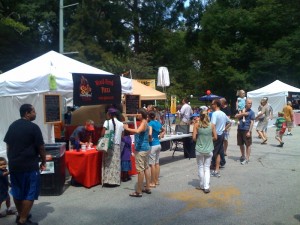 S & J's Woodfired Pizza is now off and running.  I now refer to it as "The Machine", as I feel like we have created an experience and product that people want and we wouldn't stop even if we wanted to.  We have now successfully completed two farmers markets and one festival.  We have brought "The Machine" to the Lilburn Farmer's Market, the Grant Park Summer Shade Festival and the Brookwood Farmer's Market.  All three venues have been great.  Rain hit us in Lilburn and slowed us down some but we still were able to give the people what they wanted, a delish pizza.
The Grant Park Summer Shade Festival was just what the doctor ordered for S & J's Woodfired Pizza.   We were feeling a little beaten down with all the expenses and hard work and not seeing a lot of results but man were our eyes opened.  The SJP Experience was in full force and the crowds loved it.  Lots of thanks to the coordinators from the festival who allowed us the extra space we needed and to the "volunteers" for S & J's Woodfired Pizza Rachel, Jake and JT.  Once that first pizza left the oven I don't think we went a minute the whole festival without someone waiting to experience what someone called the "best pizza I have ever eaten".  Granted that is a bold statement but the repeat customers that we had throughout the festival gave me as a cook and "chef" the confidence I needed.  The dough turned out great and the toppings really finished off the experience.  Atlanta isn't used to having fresh, hot wood-fired pizza at their fingertips but now with "The Machine" rolling we won't ever be too far away.
The Brookwood Farmer's Market was Friday 9/3/10 at Brookwood Elementary in John's Creek.  Without a ready to eat vendor present at the market we hit our stride early and didn't stop until the last dough ball left the oven.  It didn't take long to sell out and what a cool feeling to have.  I'm not sure what is better to sellout all of our doughs or see the jaws drop of those who heard about the pizza and couldn't get them.  I could just see the disappointment.  Not that I want customers to be disappointed but to know that our food is being that well received is just such a great feeling.  A little advice to all those followers of S & J's Woodfired Pizza: Come early and Come often if you want to experience "The Machine".