Take a walk outside and chances are you will find yourself thinking, "Where is S & J's Woodfired Pizza?"
Well we are going to be all around town for the next couple of weeks.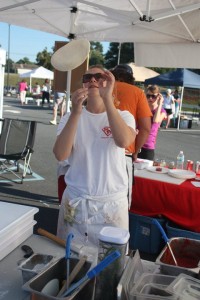 S & J's Woodfired Pizza just finished up the last Brookwood Farmer's Market of the year and it was great. Other than the wind causing havoc with our tent and everyone else, last night was great. The people of Brookwood have been great and we can't wait to come back in the spring.
If you missed us at the market come check us out on the campus of Emory University this Friday, October 22nd, starting at 11am. We will be located on the road directly behind Emory University Hospital right next to the student dining hall. We will be serving our regular festival menu and donating part of the proceeds to the Emory Emergency Department Heart Walk team.
We're also scheduled to do a private event the following Friday (October 29th) in Roswell. We're serving during the lunch hour at a private school, and workers from the nearby office park are invited, too!
Then we'll be at Chastain Park on November 6-7 for the Chastain Park Arts Festival. The weather has been great and nothing beats a delish pie on a sunny afternoon so come check us out and see what all the rave is about.
For those of you who want us all to yourselves, give us a call or shoot us an email to make your next party the hit of the season.