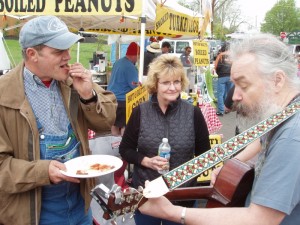 That was the name of the game this past weekend at Bear on the Square in Dahlonega GA. It was a very good weekend. It was nice weather, camping, good music and good food. How can you beat that? Its always cool to meet new people and have different experiences, and this weekend was full of both.
From camping each night, to meeting TKC with their chicken gords, to having a makeshift bluegrass jam session by our campfire, to watching the selling power of Katie Wood, it was good times had by all. S & J's Woodfired Pizza broke out our new product, fresh mozzarella cheese from Atlanta Fresh Creamery. It is so delish and makes the pizzas just that much better. Despite some internal debate it made it to the menu this weekend and sold like hot cakes. Katie wood moved about 2lbs of mozzarella in 45 minutes. Thats how good the cheese is but also how good Katie manages the front of the house.
I am in the process of trying to find some new sausage for us and locating some pepperoni from some local butchers. Various spring and summer veggies are coming into season and if you know anyone who has a great product that would go good on pizza please don't hesitate to contact us. I am always looking for new stuff to make our pies better than anyone else. Our calendar is filling up and as the weather gets warmer look for SJP to be around Atlanta at various farmer's markets and events. I love what I do.