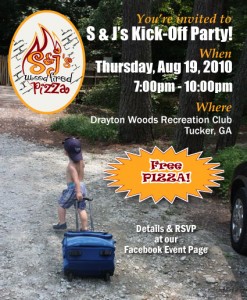 It's time. August 19th, 7pm FREE PIZZA will be served.  Thats right baby. Awesome, delish pizza served to the friends and family of S & J's Woodfired Pizza at the Drayton Woods Recreation Club.  Our kickoff party will be from 7pm-10pm and we will be serving our festival menu of cheese, pepperoni, sausage and roasted red peppers and a vegeterian delight of fresh tomatoes, fresh mushrooms, onions and an olive oil and garlic sauce. Extra dough balls and S & J's Woodfired Pizza t-shirts will be for sale to those who want to sport our colors. We will also have coolers with ice to cool down whatever refreshments you bring. 

Join us in celebrating the beginning of our new business.  Please RSVP by emailing us at info@sjpizza.com so we can have enough dough for everyone and we will send you directions then. To those lucky enough to see us on a daily basis we will be handing out invitation cards with directions or you can call us (770-241-7738) if you need help.
PS: If you're on Facebook, you can RSVP via the Facebook Event page.