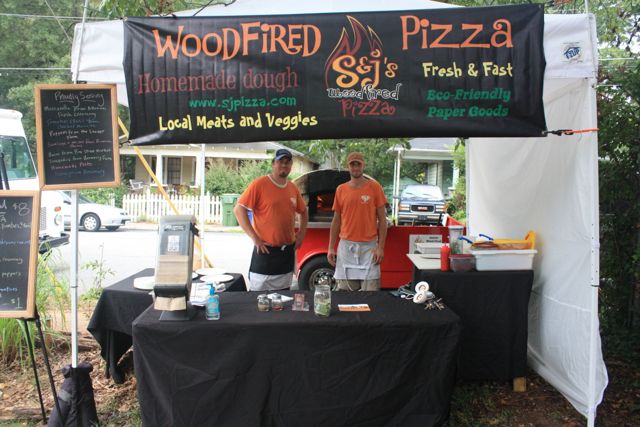 S & J's Woodfired Pizza is a mobile wood-fired pizza unit that travels all around the Atlanta area. Here is a listing of our upcoming events. Check it out and see when we will be near you.
If there is an event in your area that you would like us to attend please let us know (contact us).
Wondering where we've been? Check out  the road traveled.
Upcoming Events:
2013-05-23 03:58
East Atlanta Village Farmers Market
Thu, May 23, 2013
4pm - 8pm
East Atlanta Village
561 Flat Shoals Ave
Atlanta GA
Weekly farmer's market that features delish wood-fired pizza
and local, naturally-grown produce
Piedmont Park Green Market
Sat, May 25, 2013
9a-1p
Piedmont Park
Piedmont Park
12th St Entrance
Atlanta GA
Voted one of the top five farmer's markets in Atlanta by
Access Atlanta, Green Market encourages sustainable
communities in the most basic way - by providing shoppers
with direct access to local farmers and merchants. It's as
simple as that. It features wood-fired pizza and delish locally
grown produce.
Grant Park Farmers Market
Sun, May 26, 2013
9:30 am - 1:30 pm
Miledge Fountain, Grant Park
Cherokee Ave and Miledge Ave
Atlanta, GA 30316
Weekly farmer's market that features delish wood-fired pizza
and local, naturally-grown produce
Private Party
Tue, May 28, 2013
7:30p-9p
Private Home
Wood-fired Pizza catering
Graduation Party
Wed, May 29, 2013
7:30p-9p
Private Home
Wood-fired Pizza catering
East Atlanta Village Farmers Market
Thu, May 30, 2013
4pm - 8pm
East Atlanta Village
561 Flat Shoals Ave
Atlanta GA
Weekly farmer's market that features delish wood-fired pizza
and local, naturally-grown produce