Here is quick update on our progress here at S & J's Woodfired Pizza.  We have received our sales tax and withholding information from the state of Georgia.  That doesn't really mean anything to y'all but that will keep SJ busy with paperwork.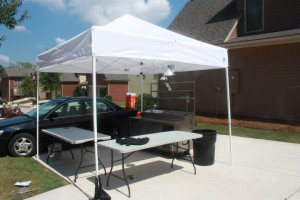 We have also acquired a pizza prep table, canopy, generator, pizza peels and pans, pizza cutters and a hot water dispenser.  We only need a few more small wares and perfection will be achieved.  And oh yeah, we need the oven.  Oven shipment is scheduled for August 3rd and will hopefully be on premise a few days later.  Good news to all those who live close there will be delish wood-fired food will be coming from the oven everyday as we cure it and learn the ins and outs of our specific little bundle of joy. 
Along with acquiring material things to get us going, we have been placed on the catering list of Sweetwater Brewery in Atlanta GA and Terrapin Brewery of Athens GA.
I have also been in contact with many of the local farms arranging different suppliers for our veggie and meat needs.  If you have any recommendations please let me know.  Also, please check back because I will be posting which farms we decide to work with and will be posting links to their web pages.  Its so cool to talk to these local farmers and deal with people who have the same appreciation for food that I do.  Trust me, the products that we will be featuring will blow your mind.  Check back often for more updates and find out what will be served each night as we use our oven and work towards our kick off party.