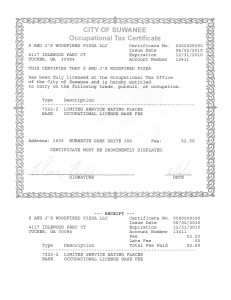 S & J's Woodfired Pizza is now legal.
I went on Wednesday and signed a contract with Shared Kitchens, LLC.  This allows us to prepare all of our delish food in a health department approved kitchen keeping both you and I safe.  Along with signing our contract, we applied for our business license in the city of Suwanee GA and got approved.  As soon as we receive it in the mail, I will post in the photo gallery so check back for a picture of it. Not only does this make us legal and legit, it takes a huge weight off both Sarah and I's shoulders.
Getting all the legal mumbo jumbo and business aspects out of the way will hopefully make things more fun in the future.  I am in it to cook and prepare delicious food, not to stand in line at a crowded courthouse to fill out documents or call inspectors on the phone.  Sitting in front of a roaring fire with unbelievable smells and a cold beer in my hands is a little more my style. So now with the formal stuff taken care of, I can focus on how to make the food we serve the best it can be.
Last night, I took my beautiful girlfriend, Sarah, on a "home date".  We had chicken scallopine with blue cheese sauce and handmade potato gnocchi.  It was delish. Still some improvements to be made but the base is there.  Cooking is supposed to be fun so now hopefully with the state of Georgia satisfied I can focus more of the satisfaction of you and I.