Our "clan" consists of 2 adults, 1 child, 1 dog, and three cats.
These days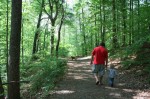 we spend as much time as possible at home enjoying the simpler things and trying to take life slow. Sarah and I like taking my (joyful, curious, hysterical, adorable, and extremely active) 2-yr-old son, Grayson, on nature walks, and spending long afternoons relaxing in the sun is high up there on the priority list. Cooking dinner at home is a nightly tradition.
I am the chef of the house (yeah… we're not much for tradition) and Italian night is always the favorite. Along with Italian, we love mexican fiesta night, who doesn't love a delish margarita, but our real passion is pizza and pasta. When I'm not cooking, I love to kick it at The Drayton, our pool, play playstation and wii, enjoy a delish beer and watch my son, Gman, get into anything and everything.
When Sarah isn't helping me watch Grayson, she loves photography and scrapbooking. You would think that she single handley keeps hobby lobby in business. As an avid scrapbooker and budding photographer, she has colored the walls of our house from top to bottom. Although not much of a cook, Sarah can toss a pizza like nobodys business and isnt afriad to get her hands dirty in the kitchen and help me out whenever she can.
Grayson on the other hand is the oppsoite of help. If he isn't plucking unripe tomatoes from my plants in the backyard, he is pushing his Lightning Mcqueen truck around the house. He loves to be outside running around, walking on hiking trails, in the pool or watching the dvd Cars. With the foundation set, I'll add a little more for each of you fans every so often so you can keep up with the whole lives of S & J's Woodfired Pizza. We are more than a business and you will catch that here.