We need you!!!  An old adage, or a calling to your DREAM JOB.
S and J's Woodfired Pizza needs a couple of new team members to join our seasoned crew and help bring delicious wood-fired pizza to people across Georgia. Specifically, we are hiring pizza makers and a catering service manager. Below are the job descriptions. Please contact us for more info.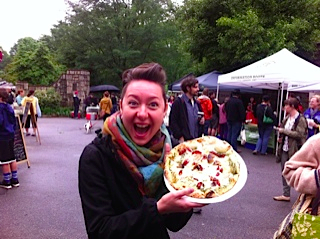 S and J's Woodfired Pizza is hiring a pizza cook.
We are looking for an experienced pizza cook to work with our mobile wood-fired pizza business. Pay is $10-12 per hour plus tips depending on experience for approximately 25-35 hours/week. Base schedule listed below but we also do catering so hours will vary as gigs come up. We need someone to start at the end of March. Must have experience making hand-tossed pizza, be customer-service oriented, be awesome, enjoy being outside, able to do moderate lifting, and have their own reliable transportation.
• Base schedule: (times may vary somewhat)
• Wednesday evening
• Thursdays evening
• Friday evening
• Saturday morning and evening
• Sunday morning and evening
Mondays, Tuesdays will generally be days off, but we need someone with a flexible schedule that is available and willing to take on additional work when events come up on these days.
Please reply with your experience and when you can start. We encourage you to visit our website www.sjpizza.com for more info on the business.
Please DO NOT apply if you do NOT have hand-tossed pizza experience.
Thank You!
____________________________________________________________________________
S and J's Woodfired Pizza is hiring a catering service manager.
We are looking for an energetic, out-going personality, who enjoys interacting with customers, serving food and taking orders at farmers markets. This employee needs to be a self-starter, who can setup a beautiful food serving experience.  We cater weddings, bar-mitzvahs, movie sets, birthday parties, etc…  We need someone who can handle clients throughout each event and make sure they go off without a hitch and possibly manage additional waitstaff.  Additionally, you will be expected to take and ring-in orders at farmers markets each weekend, make marketing signs, purchase from farmers, and help clean up.  We cook onsite at each event and work outside all year around.  A love of the outdoors and moderate lifting is also required.
Pay is $11-13/hr plus tips depending on qualifications.
Hours will be variable as we get do many last minute events but should average 35-40/week. Main workdays will be Wednesday-Friday evenings and then morning and evening shifts on Saturday and Sunday.  Ability to work weekday events is a plus.
Previous catering service experience and an interest in sustainable and organic food movement preferred.  Please check out our website www.sjpizza.com for more info about us and what we do.