Let S & J's Woodfired Pizza cater your party!
Whether you're planning a wedding reception, birthday party, company picnic, block party, or any other event, we guarantee that S & J's Woodfired Pizza will help make it a memorable and huge hit. Everywhere we go, people love our pizza and are intrigued, if not amazed, by our mobile, 3500lb Italian-made pizza oven on a trailer. With oven temperatures around 800 degrees, your pizza goes from peel to plate in about 90 seconds.

Our premium quality woodfired pizzas are cooked onsite for you and your guests from our special home-made dough and sauce, with only the finest toppings from local farms and our own garden. Many customers (yes, including New Yorkers!) tell us our pizza is the best they've ever tasted.
And we serve all our food on eco-friendly, biodegradable materials, to minimize our impact on the environment.
For those who are planning smaller events, S and J's Woodfired Pizza is now offering
For parties of 25 or less bring a Personal Pizza Chef to your home.
Cost: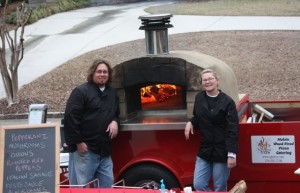 Private Pizza Staff and Mobile Wood-fired Oven starting at $13.50 per person. Weekday minimum $600, Weekend min. $700
We offer a full-range of wood-fired pastas, appetizers and salads all made with local ingredients and prepared on-site. Starting at $3.50 per person